Shoreham Explorer - 1/4 Zip
£

39.00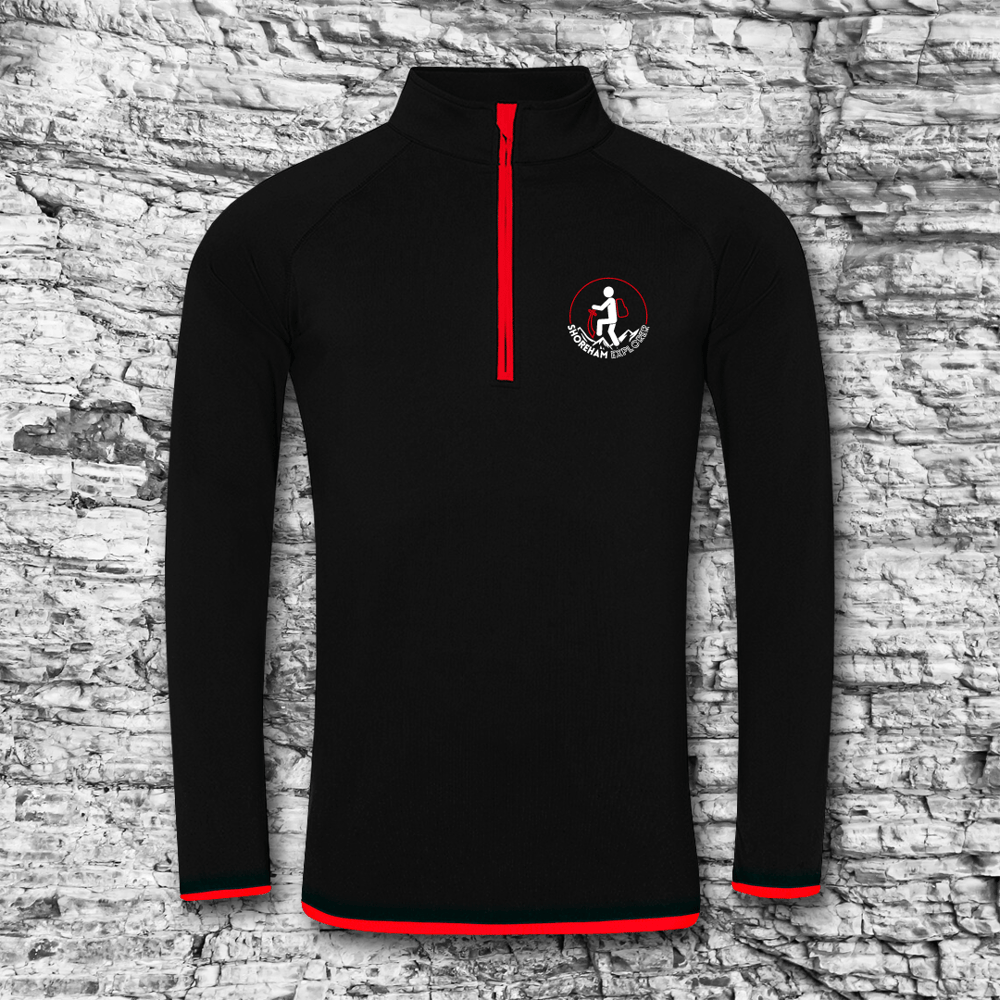 Do you travel far & wide following United? Visiting new towns, roaming their streets and drinking their ale? Then you, my friend, are a SHOREHAM 🧭 EXPLORER.
THE DESIGN
The 1/4 Zip is engineered for a more athletic fit and features superb moisture wicking fabric. Raglan sleeves create ease of movement making it ideal for layering. A reflective tab on the back neck helps keep your earphone cords in place so can stay motivated with your favourite playlists on the move. It features the Shoreham Explorer crest - our latest inception of the SE logo - executed on the left breast area.
Originally introduced with the classic 'box logo' on Tee's and Sweats in 2019; Shoreham Explorer is back with a bang as we proudly present this new collection for 2020 and beyond!
THE GARMENT
After hours of research, we've sourced this garment from one of the highest-quality plain clothing brands in Europe. A company who pride them selves on ethically-produced goods and run active monitoring programmes in accordance with standards advocated by the International Labour Organisation and the Ethical Trading Initiative.
• 87% Polyester/13% Elastane / 280gsm
• Half front zip with chin guard
• Reflective tab on back of neck keeps earphones in place
LIMITED EDITION
Produced in Sheffield and beautifully made-to-order.
SIZING
PTP Measurement:
S 18"
M 19.7"
L 21.25"
XL 22.8"
XXL 24.4"
MADE TO ORDER POLICY
This product is made-to-order and we will not be accepting returns for issues relating to sizing. See FAQ for full terms & conditions. As this product is made-to-order it is NOT ready for immediate dispatch - please thoroughly check the sizing and shipping info provided before ordering.
SHIPPING INFO
We work tirelessly on all aspects of the business and during busy times shipping can take a little longer. If you have not received your item within 10 working days then feel free to contact us using the website contact form. Before doing so please consider our 'made-to-order' policy and, rest-assured, we are hard at it behind the scenes preparing your order. Busy periods and supply chain disruptions cause some orders to take a little longer. Orders consisting of multiple items will be shipped together once all items are processed.
WASHING INSTRUCTIONS
• Machine wash at 30.
• Iron garment inside out on mid-temp.
• DO NOT bleach, tumble dry or dry clean.
Share