SHRM Millonarios x Adidas 21/22 Warm Down Tee
£

30.00 On Sale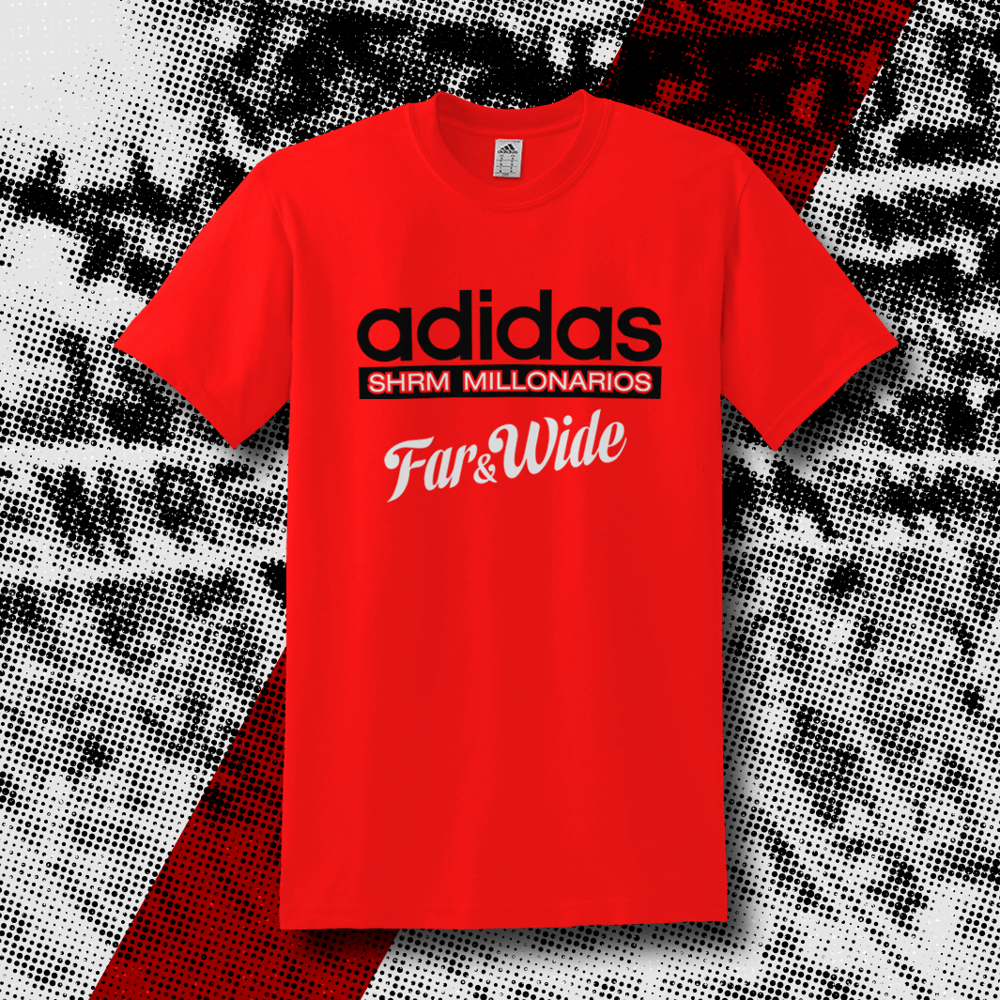 Inspired by South American football. Designed and created in Sheffield.
THE DESIGN
The SHRM Millonarios x Adidas 21/22 Warm Down Tee is the exact opposite of a Warm Up Tee - grab a can, find the remote and relax. A limited release of just 25 pieces. It combines the unmistakable look of 90's training gear with the unique style of a Shoreham-Ender. Blocked SHRM Millonarios text is sandwiched between the classic linear adidas logo and our signature "FAR & WIDE ©" motto - executed in a typeface resembling Argentina's most popular beer - Quilmes - compliments
WE ARE RIVER BLADES
We do, of course, have links with River, starting with United's tours of Latin America in 1966 and '67. Eleven years later, the transfer of the Argentinean player Alejandro Sabella from River to United was completed, before River Plate travelled to Bramall Lane for a friendly in August of that year.
If you follow our Twitter and Instagram feeds you may well have noticed our love for River from way back in December '18 when River beat bitter rivals Boca to lift the Copa Libertadores - the South American equivalent of the Champions League. Both teams - and fans - were forced to travel more than 6,000 miles when the game was moved to Madrid, following an attack on the Boca team bus by River Plate fans - the latest fallout in a long-running battle between the two clubs.
THE GARMENT
• Official Adidas garment.
• Printed adidas linear logo.
• Printed "FAR & WIDE ©" retro typeface logo.
• Short sleeves / Crew neck / Ribbed trim.
• 100% Cotton.
LIMITED EDITION
Like all our stuff. Limited to 25 pieces only. All sizes are available but once sales reach 25 we will cease production.
SUBJECT TO STOCK
This product is made-to-order using original and authentic adidas garments. All orders placed are subject to stock being available. We hold the right to cancel any orders such stock fulfilment not be possible.
SIZING
Standard Adidas sizing:
XS: 32 1/2 - 34"
SMALL: 34 1/2 - 36"
MEDIUM: 36 1/2 - 39"
LARGE: 39 1/2 - 42 1/2"
XL: 43 - 46 1/2"
XXL: 47 - 51"
MADE TO ORDER POLICY
This product is made-to-order and we will not be accepting returns for issues relating to sizing. See FAQ for full terms & conditions. As this product is made-to-order it is NOT ready for immediate dispatch - please thoroughly check the sizing and shipping info provided before ordering.
SHIPPING INFO
We work tirelessly on all aspects of the business and during busy times shipping can take a little longer. If you have not received your item within 10 working days then feel free to contact us using the website contact form. Before doing so please consider our 'made-to-order' policy and, rest-assured, we are hard at it behind the scenes preparing your order. Busy periods and supply chain disruptions cause some orders to take a little longer. Orders consisting of multiple items will be shipped together once all items are processed.
WASHING INSTRUCTIONS
• Machine wash at cold - without fabric softener.
• Wash with like colors
• Wash with fasteners closed
• DO NOT iron, bleach, tumble dry or dry clean.
Share